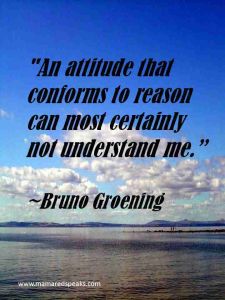 What if you let go of reason? Threw caution to the wind? Dreamed of a future you never thought possible, then took the next DO-ABLE step to create that future?
What WOULD life be like without boundaries or limitations or rules that make no sense?
Bruno Groening dared to imagine what is possible when we let go.
[br] [br] How will YOU let go of reason and share your unique gifts with the world in a way that uplifts and inspires and creates a world worth living in?
Share your thoughts and next do-able step away from reason and toward your dream in the comments below.
[contentblock id=1 img=gcb.png]