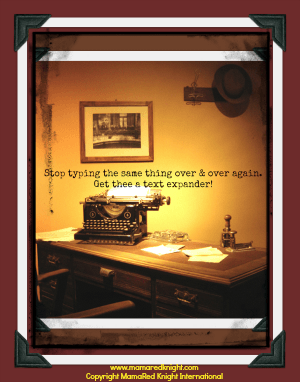 Ever found yourself typing the same thing, over and over, and wondering if you typed it the way you did the last time?
Or have you wondered how you capitalized something the last time you typed it, then spent ages looking for that word, or phrase, only to find that you typed it three different ways?
That is so frustrating and, frankly, a waste of time.
One of the ways to get out of that vicious cycle is to save those phrases somewhere and then cut/paste them when needed, which is still kind of a pain. Many word processing tools have a way to do that.
The challenge? You use the same information all over the place, not just in your word processing tool.
Maybe it is your tag line, or a section of a proposal, or a bio (or multiples), or a favorite reminder or the name of your latest book or other product.
If you use a feature of a specific tool (let's say Microsoft Word since so many folks use it), what you need in that article directory or on your blog is only available there.
Blech.
Enter text substitution tools
Text substitution tools (also called "text expanders" or "text expansion" tools  if you're doing a web search) , "sit" outside of a specific application and give you access to your valuable content wherever you are
maybe you're in Facebook and want to use a specific signature
maybe you're tired of typing the address (URL) for your websites
or what if you have a company tag line you've carefully crafted and you get tired of remembering how you capitalized things
or what about those emails you send all the time
or you create a lot of proposals for your business and get tired of looking all over the place for the latest and greatest version of it so you can put a proposal together for a new prospect
There are a gazillion scenarios where you can put these tools to work for you so you don't have to work so hard. Anything you type more than once is a candidate for being saved in a text substitution tool
See what I mean about being lazy (or, if you prefer, "efficient")? I happen to like lazy, 'cuz this is the GOOD kind of lazy and efficient is just so boring, right? Giggle.
So, the next time you find yourself typing the same thing more than two times, grab one of these text substitution tools, add your text to it, and save yourself a bunch of time!
There are some free ones, some paid ones and some that have a free version with limited features and you can upgrade to get additional features. They aren't expensive and the time you save is enormous!
There are even ones designed specifically for WordPress users. Check it out in "How to be a lazy typist, part 2."
Some uses for a text substitution tool
your name
your  company name
your product names
birthday and anniversary messages
individual paragraphs for proposals
your tag line
your signature block
program names
telephone numbers
addresses
entire HTML code blocks for web pages with the same formatting
templates for structuring articles, blog posts, and other materials you write frequently
…and the list is positively endless!
An example
I type "love and light, hugs and blessings" all the time. It is how I sign a LOT of my messages. Another one is "may your day be igKnighted with passionately powerful possibilities!" A while ago I found a tool called "Texter" while looking for a another tool (I do that a LOT, get lost in web searches than find a ton of kewl tools, which I then store in a mind map. Although that's a story for another day.)
Instead of typing each word, over and over and risking a typo or, worse yet, carpal tunnel syndrome because I sit at the computer 18 hours a day, I
Installed Texter (a PC tool, sorry Mac users!)
Created an entry labeled "llhb"
Set it to work when I press Tab
Position my cursor where I want that phrase
Type "llhb"
Press Tab
Bingo, the phrase automagically shows up on my screen, perfectly spelled and capitalized
So tell me what you think in the comments. Do YOU want to be a lazy typist? Save time? Save money? Tell me all about it!
[contentblock id=11 img=optin.png]