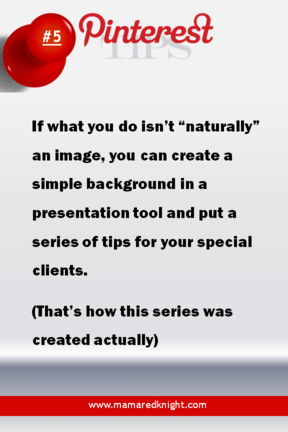 Have ya noticed how Pinterest is all the rage these days?
And how Facebook posts attract more attention when there is an image…whether a photograph or other type of image.
And how that old saying "a picture is worth a thousand words" is being bandied about more and more?
Me too. And frankly, graphics and images aren't my strong suit.
Plus I couldn't figure out how to turn what I share into images that grabbed attention. What the heck does a consultant have that is naturally a visual, eh?
So I "sat it out," ignoring the trend.
Sigh. Whine. Groan.
Once I did decide to try (yes, I said the word "try"…gasp!), I spent hours looking for something on Flickr, Archive.Org, Google Images and Morgue Files looking for just the "right" image.
Yes, literally hours sometimes, editing, resizing. Futzing. Putzing.
I know it doesn't help that I spent my life creating text and realllllllllllly! This was nuts.
Nice. And it looked decent when I was done (although not near as great as one created a specialist).
And it took me FOREVER!  And I really couldn't see how a business was going to benefit when all I saw on Pinterest where clothes and recipes and the like.
Then, while listening to a webinar by Don Crowther on how to use Pinterest for Business (Don's stuff is great!), I heard something that made things a bit easier.
The first time I heard something that made me think "hey, I can do that"!
So here's whatcha do:**
Create a list of 25-50 tips about your business
Open your favorite presentation tool (Powerpoint for PC and Keynote for Mac are a couple of the common ones, although there are many others)
Pick a template you like (or create that matches your business branding)
Make sure the orientation is set to "Portrait" (vertical)
Add your website address at the bottom
Add a copyright statement at the bottom
Add 1 tip to each slide
Save the individual slides as images (pngs do better with text heavy images)
Upload to Pinterest (or your blog)
Bingo bango…you have some visuals for your business!
Tip 1: Instead of uploading your pin directly to Pinterest, add the image to a blog post, THEN pin to your Pinterest account. It helps people learn more about what you do!
Tip 2: Once you have those image files, there are all sorts of things you can do with 'em! Use 'em on LinkedIn, Facebook, other slide presentations.
Oh, and no illusions that I'll create the masterpieces created by those who studied graphic design, have a natural inclination or both!
So what do you use to create images for your business (whether you use Pinterest or not!)? Do share.
**And yes, I realize this isn't quite a detailed list of steps… since I wasn't sure what tool YOU were using I figured this would get you started!