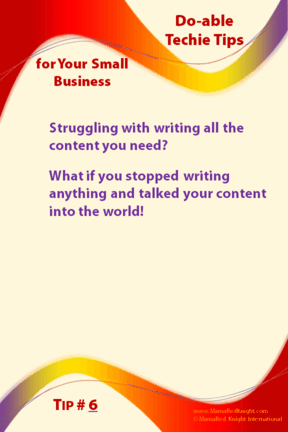 Are you a small business owner who struggles with the amount of content you need to write to keep up with your business? Seems like everywhere we turn, some site or another (maybe our own?) is crying out for more images, more how tos, more something!
It's enough to drive a sane person crazy, isn't it?
What if you didn't have to write, anything?

If you love to talk, what if "writing your book" that everyone says you "should" write to have credibility looked like "recording your book or thoughts?"

Would that make it easier for you?

Or what if you prefer to talk and every time you try to write, your mind goes blank, your fingers freeze, and you find something, anything, to do rather than write some more blasted content.

Or what if (like me) your brain only knows what to pull up when asked a question?

You could
Use the "record" option on your feature phone (e.g., your iPhone or Droid-enabled phone)
Purchase a high quality digital recorder and record your thoughts
Use a free conference calling service to have a discussion with yourself (yes, it's possible)
Use a free conference calling service to interview other experts in your field or in the field you want to move into
Use a free conference calling or webinar service to share what you know with others (the recording is the important thing, NOT the number of folks who show up)
Use a free conferencing calling service to answer the top 10 questions you get from those at networking events or in your social media exploits
(OOPS, did I include 6? I never said I was a math whiz. Smile)
These are only thought starters. If you do like to write, check out this post on finding the low hanging fruit (stuff you probably already created, even if ages ago!).
Please share your favorite way to get content done and out the done without typing or writing in the comments section.
[contentblock id=11 img=optin.png]