If you've been following my Pinterest series, you've seen there are a lot of different approaches, tips and options.
If you're new here (Welcome!) or missed some of the posts, here is a page with them all neatly gathered in one place with links.
It makes it easier than a search (at least in my book, what do YOU think…let me know in the comments below). Now on to the tip for today…
Create an appealing Pinterest Party
Ok, so it's really your Pinterest profile…and what a boring name, eh?
When you think of Pinterest as a party, you can use all those party planning (or dinner planning) skills to make sure YOUR guests have a great time and come back to visit often and share your great recipes (boards) and ingredients (pins) with others.
That spreads your great stuff all round and, if you've shared from YOUR site, brings them back to purchase your products and services.
And that's what you need to grow a business!
You wouldn't want to go to a party where the location sucked, there was nothing to see and nothing to do, right? So make sure your best stuff is front and center:
Put the content that most represent what your business is all about on the top 2 rows
Put your absolutely MOST important stuff in the center of those top 2 rows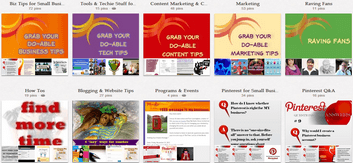 When the original Pinterest layout was launched, those first 2 rows had 5 boards and displayed 5 pins (at least on my 24″ monitor).
With the new layout launched in the fall of 2012, there are 8 rows!
And then some others say they see 6 boards.
So put your best stuff there and make sure you start that Party of yours with at least 10 boards, preferably 16.
And make sure there are at least 5 pins per board.
K?
You DO want people come back for more of what you offer, don't you? Tell me all about your experiences in the comments below. I'm listening!
[contentblock id=6 img=gcb.png]