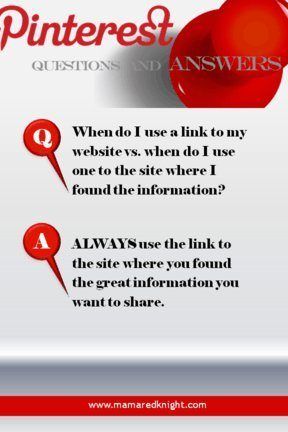 One of the frequent questions about pinning is "link etiquette…as in how do I know what link to use when I'm pinning stuff?"
Think "Golden Rule" when you're pinning something directly from a site or when repinning something you liked on Pinterest. Always give credit to the person or company who created the good stuff you're sharing, whether that's YOU or someone else!
Ever busted your butt to create something of value only to find someone thought "oh gee, it was on the Internet, so I can 'just' use it'?"
Yeah, me too.
Sucks toads, eh?
So whether it's something you created and want to share on Pinterest OR it is something you found while roaming around, always use the link to site where you found the information. If you created the pin (image) and have it on YOUR website, then you link to your site.
Example 1:
You're watching a great movie online and think "Hey, that's something I could pin to my 'Favorite Movies' board. Think I'll do that right now."
In this case, the movie isn't yours, so you would make sure the link for your pin goes to the original site where you were watching the movie.
Example 2:
You created a video related to your business and want to share it with others, you would use a link either to
your site (recommended)
The easiest way to pin while you're surfing the web is to add the Pinterest Bookmarklet to your Bookmarks. That way you can pin stuff right when you find it.