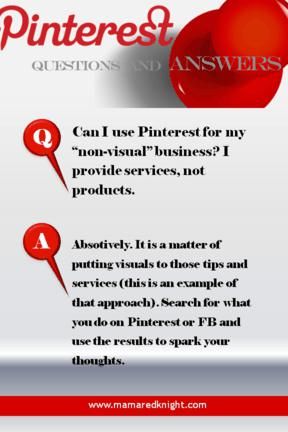 IF Pinterest is right for you (be sure you ask yourself the right questions FIRST), the next most common lament is
"but my business isn't visuallllllllllllllllllllll." I'm a service business or I don't have a product or I just don't think visually…
Oh wow, do I get this one. It took me almost a year to jump on the Pinterest bandwagon because I'm a consultant who also coaches.
[br] "How visual is thatttttt" went the whiny me.
Not to harp on this AND you need to make sure it is worth your while to even participate on Pinterest! I got more interested when I heard about the market potential (with an average income of over $100K, that's something to think about).
What swayed me was when I listened in on a webinar where this exact question was up for grabs. And the answer was so simple I blushed. Where was my right brain anyway!
Put what I know into a series of tips to help others. Jeez! Good one eh (I explain it more completely in the post Pinterest How to: Use a presentation tool to create images for Pinterest).
So that's where you can start too
What do you know that has helped you?
What tasty tidbits kept you kept you out of hot water? Or what do you WISH you would have  known that COULD have kept you out of hot water?
Or you could use this list to create some more pinnable stuff:
Quotes, sayings, inspirational messages (BIG for repinning and inspiring others)
A list of your top 3-5 tips grouped together (reuse them to create individual pins linked to your blog with more detail)
Before and afters (takes a bit of creativity when you do things like change lives with coaching or other services)
Testimonials from your raving fans (TweetThis)
Photos or images of your team (whether formal or informal)
Case studies or project profiles
Product covers for books and programs
The process you use for what you do
So, there is a starting point. Share what you think of or what came as an "ah ha" in the comments. Love hearing how your business is taking off by sharing more.