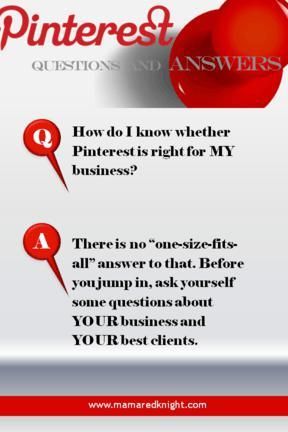 Yeah, ANOTHER place I "Have to" put content to build my business and get my message into the world.
When will it enddddddddddd! Can't we just go back to the old days?
I hear that a lot and, truth be told, said it for almost a year before I took a look at what Pinterest is and whether it was right for MY business. There are what feel like a mazillion places to put content these days and they are NOT always right for every business.
Is Pinterest right for YOUR business?
Is it right for YOURS? My infamous consultant's answer is, drumroll please, "It Depends."
Now, my clients aren't always pleased with that answer. And I understand why. The thing is it really does depend. There is no "one-size-fits-all" answer, or solution, for any of this business stuff.
Yes, there are some basics (like you need to be seen somehow) and business systems that are the backbone (or as I call the "sexy backend") for every business.
And just like going into a store and finding that one-size-fits-all outfit doesn't, the same is true for how you build YOUR business. It rarealy happens (where do they figure out that size anyway!).
It's the questions that matter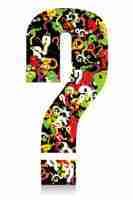 The key is to ask the RIGHT questions before you dive in. So here are a few of the ones I ask myself and my clients:
There are many more questions that I encourage you to answer…whether it's about adding Pinterest to your social media plans or purchasing a program or tool to help you grow your business.
Good, bad, or indifferent, there are basiscs that remain the same for all of us AND there is NO one-size-fits all!
Your thoughts? Would love to hear them in the comments secton!