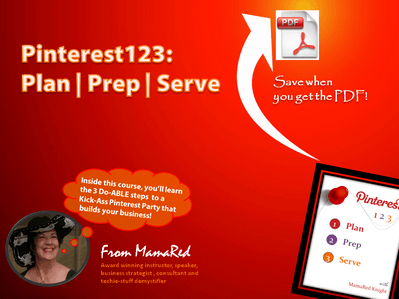 The biggest mistakes I see when business owners (including me when I first started!) is not creating a plan, setting goals and deciding how they want to present their business to the folks hanging around in the world of social media.
I think of Pinterest more like a party. And if you're going to invite someone to your party, you want them
to know what you're doing
why they'll love what you're serving
and why to join your party instead of someone else's
I don't know about you and when I have guests over I do a lot of thinking about
what we'll eat (yeah, grew up with that one, big time)
what the theme
what we'll do
and a whole lot of other things to make sure the guests have a good time and want to come back
And that's why I created the Pinterest 123: Plan | Prep | Serve Quickstart Course!
Click here to purchase Pinterest123: Plan | Prep | Serve
I kept seeing empty profiles and boards. No pins. No nuttin'.
So why would I want to join that party, eh? Nothing for me to see, so I move on. And that's NOT what you want if you're doing business, eh? And believe me, unless you're inviting your dear friends and family, folks aren't going to come back to see if you've got some good stuff for them!
You'll love this course because it gets your Pinterest Party started the RIGHT way…by planning it out first, then starting that party with a bang instead of a whimper!
Step 1: Plan
In this step, you'll get really clear on what you want to do at your Pinterest Party (and the kewl thing is that when you answer the questions, honestly and as clearly as you can at the moment), you'll have a plan that helps you with all of your business, not just Pinterest. You're guided step-by-step through the questions that will make your Pinterest Party THE one to join!
Step 2: Prep
In this step, you'll use the 5 NoodleSheets™ to gather the information you'll need when you open (or review) that Pinterest account. With this Microsoft Word forms, you'll be able to test out everything before anyone else sees what you're doing
Get all the information to have a complete profile (picture, website, description, the whole schebang)
Gather information on what other Pinners like you are doing so you have some ideas of what boards to create, what pins to pin, who to follow
Choose board names with the keywords that attract those who are looking for what you offer
Figure out what you want to pin and on what board
Figure out who you want to join in your party
Step 3: Serve
With all this information at the ready, you'll create your Pinterest Party in 30 minutes (or less!) and have a complete profile filled with at least 10 recipes (boards) and 100 ingredients (pins) without having to create a single pin yourself!
And when you set up Pinterest this way, you're way ahead of the game!
Why plan first?
Because the 3 biggest mistakes business owners make are
Not letting guests know what they're all about (no image, no description, no links to other places)
No recipes (boards), just an empty ole' thing hanging out by itself
No ingredients (pins), just a blank spot where good stuff could go
Grab your copy of the Pinterest 123: Plan | Prep | Serve and
Click here to purchase Pinterest123: Plan | Prep | Serve
What's included?
You get all the materials included in the live course (without the live calls). You'll get the
Pinterest 123: Plan | Prep | Serve QuickStart Guide (PDF) with the questions, the guidelines, all of it.
5 Pinterest 123: Plan | Prep | Serve NoodleSheets™ where you put your cut'n'paste ready profile information, board names, ideas for pins, guest list. The works.
Pinterest 123: Plan | Prep | Serve Mini How to Guide with detailed step-by-step instructions for working with Pinterest, with lots of images to show you just what to do.
Click here to purchase Pinterest123: Plan | Prep | Serve