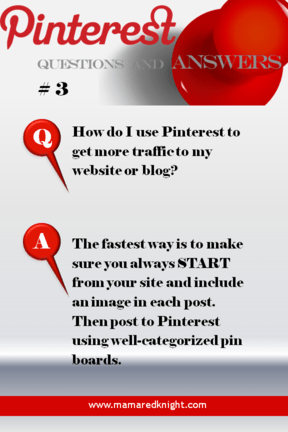 The best way is to make sure you pin FROM your blog TO Pinterest (or any other social media accounts you have).
When you pin from your blog TO Pinterest, the address (URL) of your post is automatically included. Why is that a great thing? 'Cuz when someone clicks your pin or clicks "Website" it takes them right to that pin of yours where they can
read your pithy post
check out your services and products
check out the other wonderful posts you've put on your blog
And when someone repins (shares) that pin of yours, your links stay there and that gets you more traffic!
Whether you pin directly from your blog or upload an image from your computer, make sure you have a link directly to something specific, not to the home page or a generic thing-a-ma-bob. It is realllly frustrating to be interested in a pin and ready to learn more, then find yourself nowhere near the topic you were interested in.
Not good karma, eh? And doesn't do a lot for the folks coming to visit your wonderful offerings.
Other ways to build traffic
The easier you make it for people to pin, follow, SHARE, the more likely they are to do so. There are a bunch of ways and here are a few….
Make it easy for people to pin your posts
Although this was about how to get traffic TO your blog, be sure you make it easy for people to pin from your site with a PinIt button (many of the social media plugins for WordPress have added Pinterest buttons)
Share your pins on Facebook (you can do that from within Pinterest itself actually, how kewl is that?)
Add a Pinterest Follow Me badge on your blog so people can easily join you there too
Join in some social media sharing circles (I'm in a couple of them on Facebook and I've gotten much more traffic to my various social media sites and my blog)
Repin good stuff to your Pinterest account (yup, that truly is another way to grow your traffic)
Put your website address in your account and verify it (a little techie, I know and still do-able!) so that people know you're a real person (plus they can click that link in your profile while they're at it!)
Note: These tips are based on using a WordPress site. To the best of my knowledge, most of the other blogging platforms have similar functions.
Note 2: You can add/edit a URL from the pin if you happen to forget this one. And be aware, there are some unscrupulous folks who have a bad habit of redirecting pins to their site. Not quite sure how they do it AND I've seen it happen over and over again. Dang, don't like that approach at all, do you?
So, what tips do you have for getting traffic from Pinterest to your blog? Do share them in the comments below!
And, and while you're at it, go ahead and click that Pinterest button and share this Pinterest How To on YOUR Pinterest account.