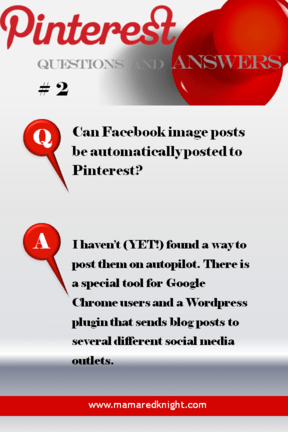 Great question and as of this post (March 2013), I couldn't find a way to have every image you add to Facebook be automatically posted to Pinterest. That doesn't mean it isn't possible (I might have missed something) or that it won't be possible in the future.
And, for the moment anyway, Facebook doesn't let you directly pin to Pinterest in an automated fashion.
Truth be told, I'm not sure it is a great idea to automatically post (don't shoot me, blame my Recovering Control Freak for this one.)
Why do I say this when I'm big on automation and systems?
Because you may want one image to go and not another one (for example, let's say you loaded a ton of quotes and didn't want them to all go to Pinterest at the same time).
Or maybe you have some personal images that don't belong on Pinterest.
Or maybe you're using your blog as YOU Central  (highly recommended by the way) and want people who find your pins to bop on over to your blog and check your other goodies.
(And, nope, the PinIt button from the Pinterest Goodies doesn't work for Facebook, dad-blam-itall, although it does work most everywhere else I've tried it.)
Now, before you despair, there are some options out there for you!
I know these aren't completely automated "from Facebook to Pinterest" options and it's a start!
You can
In my opinion, and from doing things the wrong way round for many years because I didn't understand blogging, I really recommend that you start with your own blog and then pin and post to the sites where you do business. Unless, of course, if isn't your image to pin, then be sure to give the right folks credit! (Yeah, I know you know that, 'gots to cover me bum, right?)
I'm sure there are a bunch of other ways to get done what you want to get done.
What have you found? Pop it in the  comments section and let us all in on the secret!
(P.S. There are some buggy issues that I've seen with the Chrome extension and there are reported ones with Pinterest Right Click. Just thought ya ought know!)