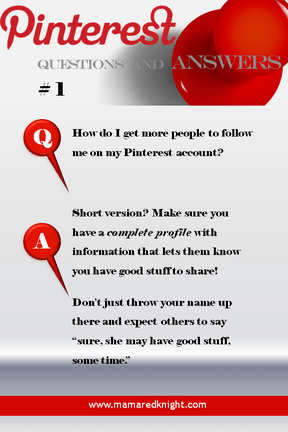 Ah oh, you're hitting on one of the key things I cover in Pinterest 123: Plan | Prep | Serve (both the self study version and the live version).
It's one of those hot button "rants" for me so hang on.
You're about to hear the answer in the world according to MamaRed! (Of  course, no duh Mama, I'm reading YOUR blog aren't I? Smile)
I call your Pinterest presence a Pinterest Party. And when you're having a party, what do you do, eh…
You plan something great for your guests…
You think about who you want to invite to your shindig…
You look for some tastee treats to tickle their tastebuds and have them saying "oh I so loving going to HER parties!")…
You prep all the things (whether the place, the kitchen, the recipes, buying the ingredients, looking for something special)…
By your actions, your invites, your recipes, your location, you create an atmosphere that says "oh, I'm sooooooooo glad you're here.
So why, WHY, would you jump on Pinterest, create an account, and thing leave it nekked. Hanging in the wind.
That says "nothing to see here folks, move right along."
Is that what you would say to guests coming for a great dinner? Or to an event you're holding? Or that tailgate party?
NO.
And that's what I see over and over and over again on Pinterest, and almost every other social media hangout there is. "Nekked" pages, sites, profiles, whatever ya wanna call 'em.
Most people create their account and put nothing up there…
No description that says "hey, this is what I do and what you can expect from this party"
No image (preferably YOUR beautiful self) that helps me know whose party I'm joining
No boards (I call them recipes)
No pins (ingredients)
And that's why I  created Pinterest 123: Plan | Prep | Serve the way I did!
Plan: get clear on your who, what, why, when stuff before you create that account
Prep: get everything together you're gonna need so you can cut'n'paste as much as possible (like basic account information, at least 5 board names, board descriptions)
Serve: open that account, cut'n'paste as much as you can and pin at least 5 pins per board (preferably 10) from other pinners or things you find on the Internet (if you do it the way I teach in this course, you'll a complete profile with 100 pins in less than 30 minutes)
Voila! A bunch of tastee treats that you can add to in a few minutes a day while you're inviting other guests (pinners) to your Pinterest Party.
So whatcha think?
Which would YOU rather follow:
 A nekked Profile

A complete profile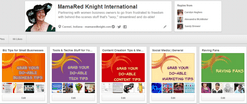 So whatcha think? Which would you party would YOU rather go to (and not just because it is my profile, because that's the one I'm authorized to take pictures of!) Do share in the comments below! I want to hear what's on your mind.