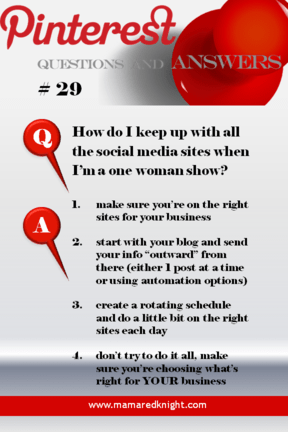 Oh boy, I know this one firsthand and I know other members of the Get igKnighted Family do too! When you're a one-woman show, there's a lot on your plate.
Sometimes it is sooooooo challenging to step back and look at all the pieces with a cold hard eye and ask
is this a MUST
a NICE TO HAVE
or WHO CARES
And that's an essential part of being a one woman show. (Read this post on how to prioritize for more suggestions.)
That and realizing you may not HAVE to be a one woman show with a bit of creativity (assuming you don't have the finances to do otherwise).
Now, ideally, you're working with others who take care of the things you aren't good at doing, or don't like to do.
Whether that someone is an intern at a local school or college or a kiddo who loves to fiddle with the stuff you don't like to (great for resume building by the way!).
Or maybe you could get some simple things done at Fiverr.
Let's focus on Pinterest for a minute
Since this one is about Pinterest…I'll focus there for the moment!
Make sure Pinterest is the RIGHT place for your and the guests of YOUR business. Check out some of these "Is Pinterest right for MY business" questions to make sure of that one before you go any further. 
If it is right for YOUR business, start by adding at least 1 image to each blog post so you can pin from there AND invite people back to your site to check out what you have on the menu. Since Pinterest automatically adds the post URL to the image, people can just click and go.
If you're using multiple social media sites, create a rotating schedule (and use the start from your blog post suggestion above). Create a schedule with X minutes for one site per day and stick with it. (Heck you could even go so far as using a timer to keep you focused!)
Use a tool like Pingraphy to schedule some pins in advance.
Add a WordPress plugin (assuming you're using WordPress, if not there may be something like it for the tool you're using) called NextScripts to send your goodies all sorts of places automagically.
So what other tips and tricks do you have for keeping up when you're the one-and-only in YOUR business? Do share!