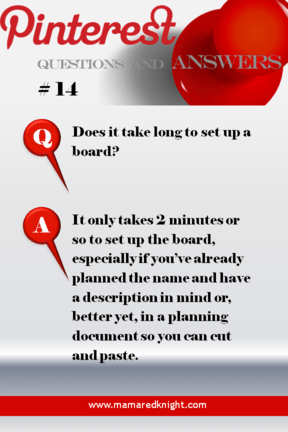 Actually setting up the board? A minute or 2 (especially after you've done a couple of them and are used to the process).  At the moment, you can rearrange the boards to highlight what is most important to your business.
You can also create a specific cover image to build your brand and make sure it shows up any time you have a visitor.  If you don't choose an image, Pinterest displays the latest pin (not the best for you and takes a bit less time).
Best practice
To make sure you're leveraging your time, make sure you have
a strategy that helps you build your business with Pinterest (and making sure it is right for YOUR business is a first step)
a list of the boards you're creating and what you are pinning on those boards (and please don't pull the bait-and-switch thing where your board name says one thing and the pins are totally unrelated!)
a name with the keywords people search for and that apply to the business you're in (this is part of the Pinterest 123: Plan | Prep | Serve course materials)
a description for your board so people know what to expect when they scroll through the pins (also part of Pinterest 123: Plan | Prep | Serve and makes it so much easier to cut/paste and be on your merry way)
the category you want to assign to your board (honestly, at the moment, I think there are some more categories needed!)
a specific cover that draws the eye to your amazing pins
at least 5 (preferably 10) pins of your own or others so the board doesn't look nekked and you look good and have people coming back often for what you serve
At minimum
The only thing you MUST have for a board is a board name. And I definitely don't recommend that route if you're building a following and using this to build your business. If you're in a hurry, you can add or edit everything, including the board name later.
Note: At the moment, there is no easy way to move a bunch of pins to another board or to rearrange them without deleting and starting over. Bleck! The ability to rearrange pins is actually one of the most requested features. Having putzed with the order of things as I wandered around in the Pinterest woods, my vote is on that one too!
Have any other tips for Pinners to use when setting up a board for themselves?
More questions about setting up a board? Do tell by adding your comment in the comments section.