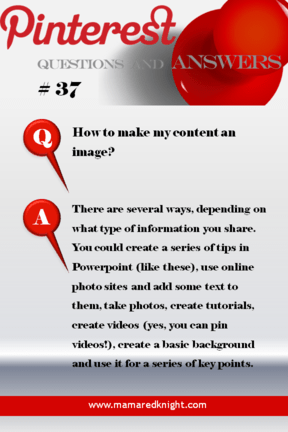 There are many ways to make your content an image and which you choose depends on several things
A couple of suggestions for you
Create a series of tips and use the same background if you're not the world's top designer (yup, that's how I'm creating these, may not be uber exciting and it gets ya moving, eh?).

Put a copyright and your name or at least your website address on each image.
Spend time time on your favorite websites and pinboards and look at what they're doing
Take a look at the tools available for creating images…free of charge (can't beat that price!).
Use online sites like MorgueFile to find images you can use without attribution (meaning you don't have to include the creator's name) or Flickr (where, most of the time, you want to make sure you give the photographer credit).
Use public domain sites to find images you can use with attribution.
Please please please be careful when using photos from others and give credit where it is do. Always read the rules of each site and individual images before you use them!
So what are your favorite ways to turn your content into an image? Do share in the comments below.