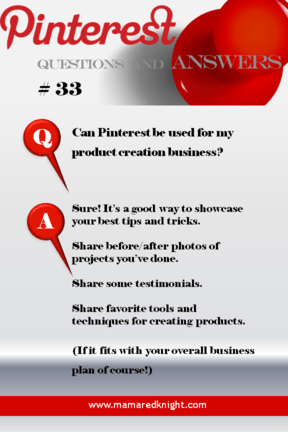 Great question and the short answer is "yes!" You can actually use Pinterest for any type of business, as long as you're willing to find a way to share things with images in a way that attracts others.
A couple of terms, just in case you're not familiar with Pinterest (or, as I say, having a Pinterest Party!).
Pinboards (boards)…these are just like those old corkboards we had at home to "pin" our favorite things on or the ones at schools where you could see the announcements of things happening all 'round. Only in the case of your Pinterest Party you can have a TON of them, all organized around a specific topic you choose
Pins…these are the individual items "stuck" on the corkboard (or pinboard in the case of Pinterest). You gather those pins (each of which is an image) on those boards and share them with other Pinners (or guests). You can have as many as you want.
So, with those terms out of the way…
The long(er) answer
Yes, you can use Pinterest for your product creation business. The rest of the question, and be sure to answer it FIRST, is " is it right for MY business?"
Check out this list of questions to figure out the answer to that one and then take a look at some of the suggestions in this post! I'll be right here waiting.
For the moment, we'll "assume" that it is right for building the buzz about your business and driving traffic to your website.
Remember, on Pinterest, everything is about the image, the visual aspects of what you do.
So what could you do for your content creation business that would be visual?
How about …
Creating a list of tips and tricks for turning content into a product (you could use a standard background for a series, like I've done here or come up with unique images for each tip…which is a lot more work!)
Sharing some before-and-after pictures of what you've done (maybe you have a knack for turning big long streams of text into nice readable chunks or sections)
Sharing your favorite tools for creating products and use the product logo or image as the graphic for that pin
Brainstorming a list of product types and sharing the pros/cons of each one in a blog post and as a pin (there are soooooooooo many ways to deliver content these days, you could have a whole board of them, right?
Setting up a board for testimonials from your raving fans who love your work
Creating a specific board for the products you've created (with your client's permission if they aren't your products, of course) so people can see all the different things you've done