Question:
How do I get over feelings of overwhelm and procrastination because I don't know where to start first? I have all the tools and education I need, yet the fear of tripping up over what I don't know holds me back… please help!
Answer: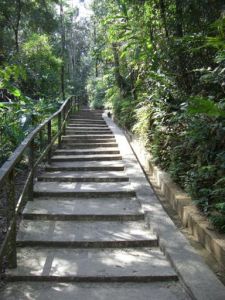 I know you said you have all the tools and education you need…so have you had a nice little chat with your fear? I know it might sound crazy as a loon…and I have seen it work over and over. We often try to force the feelings of overwhelm and procrastination away…not stopping to see what is at the root of those actions (or "non-actions" if you prefer).
I totally understand this feeling 'cuz I've been there, still go there!, so many times in my life. It's funny (not the ha ha kind, the weird kind): I'm a business coach and consultant that does all this system, analysis and techie stuff. And yet I also work with mindset and fears and energy.
Why? Because it is our mindset, our beliefs, that most often hold us back. I've been on the phone with a coaching client who swears she is ready to move foward and so XYZ.
Yet I can feel the resistance. Feel the fear coming up. If I had even a penny for every time those fears held me back, I'd be rich!
Some techniques to try
What is the fear trying to tell you? Is it "truth" or is it a holdover from the past (whether this life or another, if you believe in past lives, which I do).
One option to clearing those blocks and false beliefs (I'm not sure I know enough, what if someone finds out I don't know enough, what if I make a mistake…and on and on it goes), is to look into  healing options like EFT, meditation, laughter yoga, and the like.
Another technique is to ask the question another way and then let go and let your amazing brain go to work on an answer…
"Why is it so easy to to move forward with ease and grace?".
or
"What could I do, this moment, that would be a step toward what I DO want?"
This approach is called an "afformation" by the creator of it (Noah St. John) and frankly I find it a whole bunch easier to handle than the "fake it till ya make it" or "just do it" models. I'm a question-asker by nature (and I think most humans are!), so love this approach to finding my way through to success.
No matter what route you choose, remember this. Those fears have served you well for years. They may not be serving you now AND when you
pay attention to them
discover their message
release them if they no longer serve you (tell them it is their turn to play…it's a fun way to let go!)
…you'll find the path easier than trying to plow through on grit and determination alone.
It isn't always easy to do this work alone, which is why I started doing coaching sessions in the first place. To see if what we're a match, grab your complimentary 24 minute session and let's get you living the life that suits you!
big hugs, big blessings

P.S. What things have you tried to overcome your fears? Share in the comments below.
P.P.S. Oh, and don't try to take on everything at once. Find the next do-able step, no matter how teeny tinsy you think it is!
Image courtesy of Jeremy Deades
[contentblock id=1 img=gcb.png]