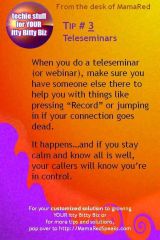 Doing a teleseminar (a telephone-based presentation) or webinar (a web-based presentation with slides or your computer screen showing) is a great way to share your message out to a much larger group of people than the traditional one-on-one approach to sharing what you know. And when you bring in technology, things happen. Unexpected things.
One of the ways to keep things moving along smoothly is to make sure you have someone else on the line who knows the ins and outs  of the tools and technology you're using.
For example,
making sure the call is recorded
jumping in if your phone or internet connection goes down
moving your screen or slides forward
answering questions
telling you what questions have been asked
Ideally, you have someone who is more technical than you are and can help you through any rough patches. At minimum, have a friend on the line who has done a practice run with you before you do the "real" call!