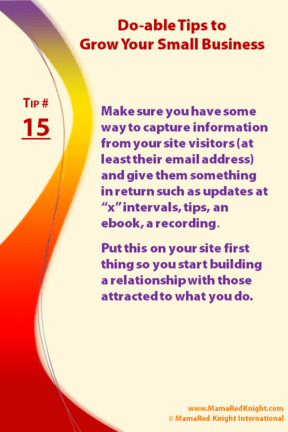 Ever noticed this little boxes hanging out on websites? They're called "opt in forms" or "opt in boxes." Or sometimes "webforms." And the purpose is to build a list of people you can connect directly to.
The "payment?" You give them something in return for the gift they're giving you: their email (or their name and email address).
Whether it is WordPress or something else, they're there to help you build a relationship with those who
know and love what you do
want to learn more about what you do
like something you've said and want to lurk about for a bit before they commit to what you do or what you're offering
want to hear about other things you're up to
want to keep up with you via something like a newsletter, event or service you've added
…a million other reasons
Have you made this mistake?
When I put up my first website in the mid 90s, there weren't things like WordPress and opt in boxes so it never even occurred to me to do anything other than make sure my name and phone number were available so people could get in touch.
Heck, most of the time I forgot I even HAD a website. It was primarily an online brochure type thing…letting corporate clients know what I could do for them (I was a business and content strategist to those-whose-names-you-might-know).
When I popped into the "internet marketing" stuff in 2007 I was immediately on overwhelm with all the "musts" and "shoulds"…
Write a booklet
Create a freebie
Build a site
…on and on and on it went
So I did what any sane person did, right? Nothing. Whaaattttttttttttttttttttt!?
Since I didn't know what to give away and couldn't think of what to write, I "just" had a site where hopefully people would guess at stuff and use my "Contact Me" form (hey, at least I put up one of those, right?).
Five years later came the tip I wished someone would have given me in the first place: offer tips, a newsletter, updates. Something. THEN worry about a giveaway or something fancy schmancy.
So do this first…
Make sure you have a place for people to sign up, on every page of your site. EVEN if you're sending out a 2-3 sentence tip on some regular basis (determined by YOU, of course).
Oh, and to do that you'll need an email management tool (I have my favorite, just like everybody does). It doesn't have to be expensive and I definitely recommend paying for this service.
Why? Because those are the folks being paid to make sure your emails and newsletters, those beautiful masterpieces of yours, are delivered!
That's important right? Plus they keep up with all the latest spammy law things and rules and the like.
I've found all sorts of free ways to do stuff and they're great. AND…pay attention here…a paid email service provider is one of the essential costs of doing business in the wild, wooly, wacky world of the Internet!
So, do share.
What do you give people as a "thank you" for sharing their email address with you? What challenges have you found along the way? Pop those comments below and let me know!
You deserve success. We can do this. Together.

P.S. Feeling stuck? Not sure where to start? Let's explore the possiblities and get that business of yours igKnighted right away. There are lots of ways to get stuff done. A great start is grabbing your no-cost "Tame TheBeasties, Get Kick-Ass Clarity" rendezvous. It's easy…click those bright orange letters and grab a spot on my calendar.