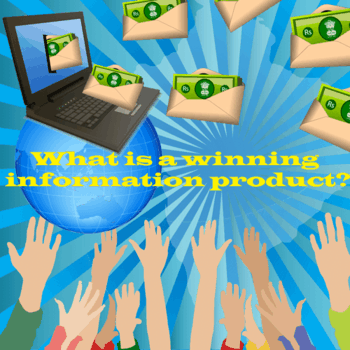 A common question I hear from entrepreneurs and business owners is, "How to do I pick a winning information product?"
If you don't like to read much, the short answer is (drumroll please)…
---
Find out what your perfect prospects and raving fans want and then give it to them in a format that suits what they want and need and
matches what you want to provide.
That's the sweet spot my dear.
---
Or you could create something that has never been seen before, but without a multi-billion dollar R&D budget, you'll want to stick with what you can sell now!
Still reading? Excellent, let's flesh that answer out a bit…
Heard any of these promises?
If you've been hanging around the Internet for more than a few days, you've probably heard
"you need a book or a program or xxxx to get rich and famous overnight"
Or you may have heard something along the lines of "create an information product empire and you'll never have to work again"
Or maybe you've heard my favorite, "write an information product from someone else's materials and you'll never have to create content or products again"
One way or another there are always these lovely statements of how easy it will be if you "Just" or "pay me a gazillion dollars and you can". Then you plunk down your hard earned buckaroos or Euros or whatever and figure you've got it made.
You're on easy street.
It's all going to be quick and easy and you can quit slaving over a hot computer every night, right?
Think you're the only one who can't figure this stuff out?
Heard of any of these (or something similar)? Found yourself overwhelmed and not sure were to begin so you give up and call it a day?
Darlin', you're in fantabulous company if this rings a bell with you at all.
If you're like most of us, you think it is something wrong with you. If you were smarter, more talented, more something you would be able to make this stuff work. The sales materials said the program was easy. Simple. Anyone can do it.
So there must be something wrong with you, right?
So let's get something straight right off the bat…you're brilliant at what your specialty is. Period. End of Discussion.
Whatever tickles your toenails, makes your heart sing and gets you jumping out of bed to take on more is what you're good at. That rarely includes running a business, creating a product empire, or taming technology!
And our focus today is on picking a winning information product, so let's start at the beginning.
What is an information product anyway?
The simple definition is: content (like text, images, audio and video) assembled together and packaged in a way you can share it with others.
See, not so bad, right?
It could be a book, audio, video, teleseminar, coaching, seminars, consulting, a combination. It could be distributed physically (like a printed document or CD-ROM or live presentation) or it could be distributed digitally on the Internet  in many different formats.
Now, on to our question. How do I pick a winning information product?
Long answer…it depends…
It depends on the answers to these questions (doncha just love it when consultants say "it depends"?).
The answers drive your choice of
what content you include
how it is delivered (downloadable, CD, live event, ebook, physical book, audio, video)
when is it delivered (all at once, a little bit at a time)
what suits your unique way of sharing what you know to those who want to know what you know. If you like to write, you could write your answers. If you like to talk, you could record what you know or get a bunch of folks on a call or get them together and have a live event some place.
Put yourself into discovery mode
Put yourself in discovery mode and jot down the answers to these questions. Remember, there is no right or wrong answer, simply your personal preference. It's all about you baby!
Who are you?
This includes details about what
you value
comes easily to you (that's a great clue as to what others need (If it is easy for you, someone else is struggling with it.)
you love to do
your priorities
gifts you bring
goals you have
dreams you have
What are you passionate about?
Do you love people? Animals? The environment?
Do you get honked off when you see an injustice?
Have you dealt with illnesses? Or the medical profession?
What drives you? What gets you back up off the floor when you've been knocked down?
What business model to you want to use?
This includes the answers to questions like
How do you want to deliver what you know?
What type of business are you in or are you creating?
Do you want to work alone or in partnership with others?
Do you want to be a boss or worker or a bit of both?
Live events? Telephone based events? Written materials? A combination of all of them?
What do you already have hanging out in that hard drive of yours (yup, you've got one even if you hate computers. It's your brain!)
Who do you want to work with?
After knowing who you are and what you want, the next essential question to answer is this one. Why? Because knowing that helps you zone in what they want from you and it gets you out of the horrific overwhelm that goes along with being your own boss.
You need the answers to questions like
Who needs what I know?
Who do I relate to?
What traits do they have?
How do they like to learn?
What do they need to know? And in what order?
How do you like to work?
Do you prefer to talk?
Love to write and wouldn't be able to talk to a group, live or on the phone, if there were a gun to your head?
Do you struggle with outlines, yet can talk for hours if asked a question, then wonder where all the information came from 'cuz you certainly don't remember knowing that much?
Are you a night person? Prefer getting out of bed at the crack of dawn?
Want to deliver your wisdom on the beach? Or on the slopes? Or your dream boat?
So let's put it all together
Long gone are the days of a strictly oral culture whose messages were passed down from one generation to another. Now there are many choices and many technologies.
Finding that perfect mix is well worth the time it takes to get answers to these questions.
Why? Because in the long run you save a lot of time and heartache and, even better in my opinion, you reach those who are waiting for you to come out of your shell and share what you know.
AND because that is how you grow your business, enhance your bank account and transform the world.
I promise you this. When you find your sweet spot, there is someone who needs exactly your kind of treat. Someone is waiting for exactly your message right now.
In fact, they're probably dreaming of you every night, hoping someone, somewhere, has the answer to their life's most challenging moments.
So the real answer to creating a winning information product is to get clear on who you are and find out who needs it. THEN create it!
Its do-able, one step at a time. One answer at a time.
Don't buy into the hype that you MUST do something somebody's perfect way. Answer the questions.
That, my darlin', is why it's time you found your sweet spot and get to gettin'. We can do this. Together.

Note: Originally published as a guest post on WowIsMe.