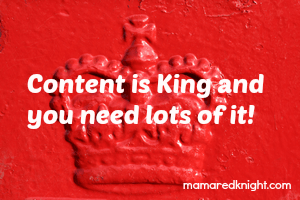 If you've been around the webified world we live in for more than a few minutes, you've probably heard "Content is King" (I prefer Empress actually) and that you need tons of it, everywhere, all the time and need to be creating it constantly.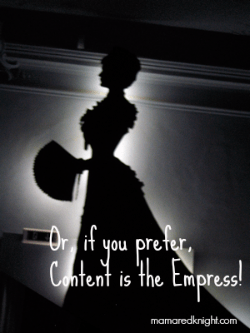 And that's just the start of the content needed to be in business these days, you gotta have…
blog posts with images so you can use Pinterest and get more eyeballs on your Facebook and LinkedIn posts (you are using all of those, right? Smile)

tons of posts for forums, groups and all the social media outlets
free ebooks or reports to giveaway in exchange for someone giving you their name and email address
audio for those who prefer to listen or take your wisdom with them on a walk or while popping dinner in the oven
video (as in webinars, YouTube, Vimeo, etc) to make people realize how whiz bang kewl you are and get them over to what you're doing instead of what someone else is doing
handouts and action guides to take people through what you know how to do with your hands tied behind your back
oh, and add in print books while you're at it
It's enough to make a grown woman curl into a ball, sucking her thumb and crying for the days of smoke signals, isn't it?
There's an easier way, promise, especially for those of us who are verbal processors with ideas that tumble out faster than the water in Niagra Falls.
Record what you want to say!
Did you know there are free conference lines you can use (whether for recording yourself sharing with the air or with others)?
Yup, there are.
And if you're a natural born talker (yup, I am, as many of you already know), it's much easier to create all this stuff verbally, THEN turn it into text or images or video or whatever the heck else you need to create.
Step-by-step: Getting the recording
Recommendation: do take a bit of time to sketch out, even at the highest level, what you want to cover on the recording so you have the content you need to put out there into the world. One of my strengths is the ability to talk off the top of my head on a lot of topics. Which is great for general purposes.
It's not so great if you've got a grand idea to put all that content to work for you in different formats. You're bound to leave something out and editing a recording isn't as easy as editing text!
Decide what topic(s) you want to cover
Decide how/where you want to use the content you're creating
Grab a notepad or stack of index cards and write down some notes
(Optional) Turn those notes into a mindmap so can rearrange things to suit you (check out this post on some mind mapping ideas and some free tools you can use)
Sign up for a free conference line (see this list for some suggestions)
Schedule a time to get on the conference line (it takes a whole lot LESS work if you're doing this by yourself or with a friend/co-worker if you do better when you have the energy of another person on the line with you)
Dial the conference line
Start the recording
Record your words of wisdom
Download the recording to your computer (the free conference line tools
Step-by-step: slicing and dicing the recording a bunch of different ways
Now that you have the recording done, you've got so many ways you can turn that wisdom into different products (most of them are free).
Use the entire recording as a free gift for signing up on your list

Sell the entire recording as part of your product line
Get a transcript of the recording (yes, this one can cost anywhere from $10-$100 per recorded hour, depending on where you get it done and believe me, it's one of the best investments you can make while you build your product empire!)
Slice and dice the recording into smaller portions and use those as teasers or appetizers to let people know what you do
Combine the audio (whether the entire thing or the smaller portions) with an image or slide and turn it into a video or series of videos
Pull out key points and use them as tweet and posts for other social media sites
Use a free tool, like picmonkey or quozio, to create images of your content for blog posts and social media sites
Create a higher priced product by combining the audio and turning the transcript into an Action Guide or Workbook
Use the smaller portions of your audio as the summary at the beginning of a blog post
Combine multiple audios into a memberhip site or training series that teaches others how to do what you know how to do
Are there other ways to tame the ContentBeastie™ with a recording?
Absotively.
This is just the beginning of what is possible. Yes, the array of possibilities is positively overwhelming UNTIL you start thinking of your content like the ingredients stored in different containers in your kitchen!
When you stop thinking of a document, or a blog post, or a recording (or a whatever) and look for the smaller components, you have 4 ways you can use everything:
Now, what ideas do YOU have for turning what you know into a product empire (or content empire if you prefer)? Do share in the comments below
And if you're stuck for ideas, do grab a complimentary 24-minute rendezvous to learn how to tame the ContentBeastie and get back to doing what you love!
We can do this. Together.