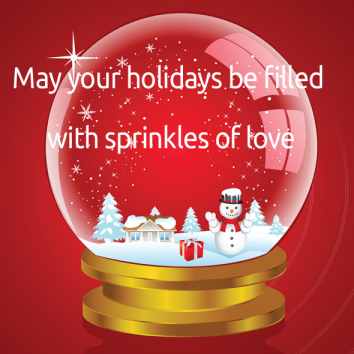 Hello dear one…
I know the holidays aren't always what the ads and promotions make it out to be.
If you're going through a tuff time, I bet you're saying "yeah, right, Happy Holidays my A$$!!!!!!!!!!!!!!"
And I understand. I truly do, especially since I've been walking into, and out of, a "Pity Party for 1" the last few weeks.
And I know I can choose my mindset. My approach. My thoughts.
As can you.
As I was reading E2 (E Squared) by Pam Grout, this statement jumped out at me:
"We don't wonder, Am I good enough to plug my toaster oven into the outlet? or "Have I prayed long enough or deep enough to deserve the right to flick on the kitchen lights?"
Hum, interesting thought, eh? We don't wonder about having the right to electricity and yet we constantly wonder if we
deserve prosperity
or to live our passions
or to have the love we dream of
or the clients who fit us like kid gloves
or any of the other things that flit through our thoughts, only to be dissed and dismissed because we're not "worthy"
And here is the question I have for you…
"What if you ARE good enough because you're alive and on this planet?
"What if nothing more is needed or required of you?"
Wouldn't that make things easier? Gasp, I used the "e" word, didn't I and I promised you would never see "easy," "simple," or "6 Figure" in my blog or newsletters.
OK, a promise is a promise, eh? Wouldn't that make things more do-able?
Something to think about as you go through this holiday season and start a new moment, a new day and a new year.
Will you choose to be good enough, right where you are, right now?
I hope so, with all my heart and I'll be right there with you choosing the same.
Here's a gift for you  to take along with you as you go through the winter … whether it be the season of winter or a time in your life that feels like winter, without hope. Stripped of beautiful colors and wondering whether spring will ever come again.
always remember… you are loved, you are loving and you are lovable

P.S. Don't forget to download your copy of In the words of…Winter as a reminder you are loved and there is hope. Oh, and see if you can guess which is my favorite quote! Hint: it's irreverent, not sweet. Smart ass not "inspirational." Can ya tell my mood! Tell me which quote I'm marking as my "fav" and you'll receive a complimentary co-sulting rendezvous!