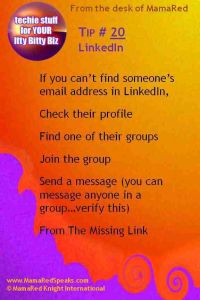 One of the big focal points for LinkedIn is making professional connections. In fact, it is consider THE social network for business-to-business connections. AND sometimes you really want to get hold of someone and they don't have an email address or phone number listed.
One option is to join one of the groups they belong to and connect with them that way.
Another is to find someone both of you know and ask for a referral.
Whatever you do, do NOT SPAM a bunch of folks.
Be considerate and respectful of their time…I'm sure you'd want the same for you too.
Make sure you stay on track with your request and offer to return the favor or provide something they need.