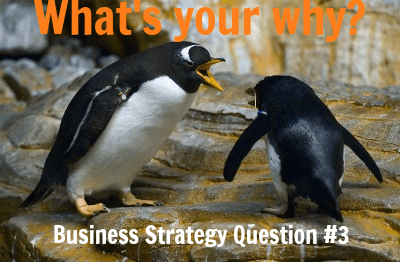 Question #3/10
Your business strategy…your big picture view of how YOUR business works…is an essential step in creating a business that supports the lifestyle YOU want to create and the lives you want to transform.
This is Question #3 in a 10 question series of what to ask, and answer, before you choose your business model, decide what programs and products you want to create and how you launch yourself in the world.
And here is a list of the entire 10-question series (in case you want the big picture view)!
If you haven't answered questions #1-2, I definitely recommend those out first,  then popping back here to answer this one. Answering the questions in this order helps you get more clarity.
There's no "one size fits all," no single recipe for success. Jeez, would you really want that?
Don't you want to be recognized as the unique LifeRecipe with unique gifts, talents and services?
Yeah, thought so.
Before you get to the details, make me a promise?
Make me one promise? Pretty please with Turbinado sugar on top?
You'll NEVER, NEVER, NEVER listen to the line of crap about you have to do something because it's the only way.
Tried it. Failed at it.
And it's seriously not OK with me that you get caught in the same trip, spin your wheels, spin tens of thousands of dollars.
Only to realize there is a unique recipe for YOUR success.
And it starts with answering the RIGHT questions!
Promise? Pinky swear?
Kewl.
And thanks for that. You rock.
Why ask these questions?
Why ask these questions? Why get kick-ass clear on the answers?
Because everything else in your business depends on the answers. Period.
Without these answers, a good business consultant (yes, I'm being a judgmental ass here), will say "it depends" when you ask about specific strategies, tools, techniques, models, technology or anything else.
Why does YOUR why make a difference?
Because that is your big picture. That is why you get out of bed.
That is the injustice YOU want to right. That is what pulls your ass out of bed when you'd rather die than try one more thing.
Now on to question #3: What's your big why?
Like questions #1-2, there are a whole bunch of questions within a question…like
Why are you doing what you do? (Not necessarily the "money" thing… that's a given… or the "change the world" thing, at least in general.)
Why are you putting yourself out into the world?
What do you want to happen?
What will things look like when your "why" is happening full force and flat out?
What pisses you off so much you're willing to work really hard to get people to purchase what you create?
What has happened in your life, in your experience, that has you realizing you want something different for yourself and others?
What has scared the hell out of you (and you don't want others to deal with the same thing)?
What would things be like, for you and others, if money, time and resources were no issue?
What happened in your childhood, your early adulthood, your recent adulthood, that became the catalyst for this deep seated WHY?
Why does this matter?
When I look back over 25+ years as a business owner, I realize how much time, money and energy I've wasted because I wasn't clear on this stuff and (blush) didn't think it mattered.
I mean really, EVERYONE needed what I was offering, right?
Maybe so. In fact, probably so. And I'm sure the same is true for what you bring to the world.
And the hard cold fact is:
not everyone is ready, willing and able to admit they need the transformation you bring!
Sucks toads, eh?
And when you get kick-ass clarity around this stuff now the easier it becomes to make choices that serve you and those special people who want, NEED, what you bring.
Think of like having a get together in your home: yes, you could invite everyone. Do you really want to?
Probably not, eh?
Noodle on that one for a minute!
(And no, it doesn't have to take YOU 30 years like it did me…in fact I pray that it doesn't take you that long. I'm speaking out now, and sharing my mistakes and learnings because I don't want it to take that long for the world to enjoy what you have and you to have the life you deserve and dream of.)
may your day be igKnighted with passionately powerful possibilities!

P.S. One of the reasons I'm so passionate about these 10 questions is because (blush blush) I refused to answer them because it didn't fit my preconceived notion of how things work. Big, BIG BIG mistake. It cost me thousands and thousands of dollars in lost income, years of my life that I can never get back, a marriage and almost everything I own and thought important. Please don't do this to you, 'k? How about we get you started by scheduling your complimentary Tame TheBeasties: Get Kick-Ass Clarity rendezvous. Yes, it does cost you 24 minutes of your day and I respect that, and you.
P.P.S.  In case you're wondering, when I got clear on this, I realized my why is because I've spent a lifetime not being heard. Feeling less than. And it makes me see red and a bunch of other colors when your voice isn't heard, your message isn't shared and your world isn't transformed!