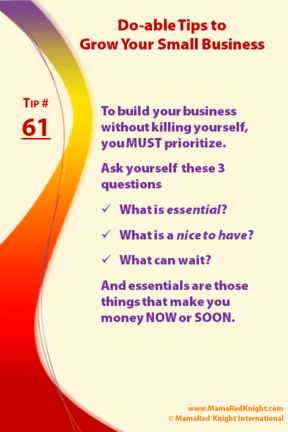 Have you noticed how easy it is to get caught up in the "shoulds" when running your business? Seems like everyone has a blueprint telling you what you "should" do.
Things like
"Just buy my blueprint and you're a millionaire."
"No no, just do it MY way and you too will be living in a mansion in 2 seconds flat."
"Just buy my guaranteed system and, out of the box, your worries are over."
"Just do these teleseminars (or webinars or whatevers) and you can make 6 Figures NOW."
"Just create an info product and you'll have people falling at your feet, begging to throw their millions at you."
That's bullshit and I'm so tired of hearing it,  I could scream.
Yes, maybe that blueprint that worked for someone and, I'm sure, if you're them or just like them, it could work for you too.
And yes, I have recommendations, systems, opinions and the like.
Of course I do.
And this one is, NOT, I repeat….NOT…. opinion.
This is fact.
There….is….NO….one-size-fits-all….approach….
(It doesn't work when you go looking for a t-shirt and it doesn't work in business!)
There….is….NO….magic….wand….
(It may work in a Disney movie and it doesn't work in business!)
What WORKS is a recipe with the ingredients and proportions that suit you, your vision and YOUR business.
What WORKS is digging in and doing the next do-able step with a REAL approach, a REAL person who isn't pulling the wool over your eyes or trying to make a fast buck, at YOUR expense.
OOPS, did I get off on a rant? Seems so and this crap honks me off. I've fallen victim to this line of BS, as have many of those I work with or chat with.
And that's NOT, repeat NOT, okay with me!
You deserve better. I deserve better. We deserve to have a successful life and business—and that doesn't come from that BS.
You need straight up answers and solutions.
Right?
Now back to our discussion…how to pick what to work on first
Since there are so many things needing done and so many things to grab your attention (can you say NSOS,  Next Shiny Object Syndrome anyone?), you've got to prioritize somehow. And my recommendation is that you answer the 10 questions every business owner NEEDS to ask before making any other choices.
You've got to take the basic recipe (like "gee, I need a way to collect money or follow up with people), create systems to handle them (with the right ingredients in the right proportions remember) and get things done, one do-able step at a time. If you want to hire me and my handpicked team to take it off your plate, you'll definitely get "there" a whole lot faster!
Why isn't it such a drain on a outsourced team? Because that team isn't running all the other parts of the business at the same time!
If you're doing all this yourself, you simply MUST cut yourself some slack and prioritize!
The thing is there are so many things to do. There is
your passion (of course), what makes your heart sing, your toes tap, what you're really good at doing, your "Zone of Excellence" if you will
the running a business stuff (from marketing to invoicing to collections and everything in between)
the technology stuff (which computer to buy, what software to use, how to use it, how to recover from the unceccoverable error, who to hire to do it for you)
an income to generate (Services? Products? Programs? Live events? Virtual Events? One-on-one?)
So is it any wonder you're ready to give up?
(If you're old enough to remember "Calgon, take me away", give yourself a pat on the back for making it through to today and do share your experiences in the comments below!)
How DO you prioritize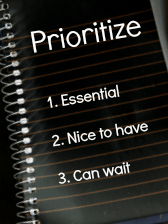 It may sound boring to go through all of this, AND to get everything done, you've got prioritize. So ask these 3 questions
What is essential?
What is a nice to have?
What can wait?
So how do you pick what is essential?
You ask yourself one question
[box type="info"] Will this make me money 
now
 (like a proposal or a  phone call to someone you met) or in the near future (like organizing your signature system into a simple report?)[/box]
Once you know the answer to THAT question, you can get to work on figuring out the steps, finding a system that works and putting that system to the test.
This is how I help clients create a system that works and what you get to do to make your business work YOUR way. You could even use some of these tips for prioritizing content to prioritize your overall business decisions, systems decisions and technology choices.
Do share!
Do share with class. How do YOU prioritize what needs doing? What is challenging for you? Inquiring minds (like mine!) want to know.
You can do this. WE can do this. Together.