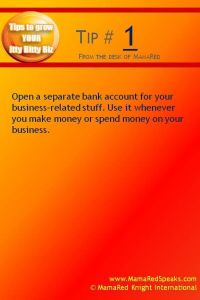 No matter what type of legal business structure you have (sole proprietor, doing-business-as, corporation) open a separate checking and savings account to use for your income and expenses.
And always, always, always, put the money you receive INTO the business checking account and pay your business-related expenses FROM the business checking account.
Believe you me, at tax time you and your accountant (you have one of those right?) will be very glad you did.
Note: If you've already been running your business for a while and don't have an account. Get one and start transferring your business activities to it.
Even if you don't have business income, write yourself a loan for XX amount and put it in the account.